IDITAROD!
Called the last great race on Earth, this trek across Alaska is a challenge for man, beast and equipment
By Judy Holmes
Extreme temperatures are not only tough on racers and dogs, but they challenge photographers as well. Judy Holmes was careful to store her equipment outside (so that temperature changes wouldn't cause condensation) and keep batteries close to her body for warmth. She used a variety of film, and found that even fine-grained slow films could stop the fast-moving action because of the added brightness of the snowy scenes.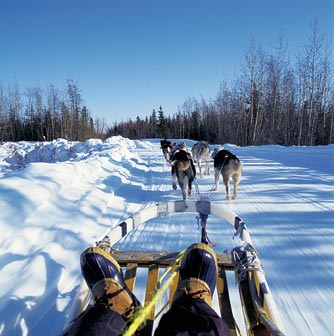 With temperatures well below zero, race dogs are pushed to their limits throughout the nine-day Iditarod. Their well-being is paramount, and if a dog becomes injured or exhausted, it gets a warm ride in the musher's sled basket.
Alaska in March? Photograph the Iditarod race? You must be kidding!" my friends said. Yet once they heard what our guide, five friends and myself experienced as we photographed the events surrounding the famous "Last Great Race," their skepticism turned to awe. We recorded some great moments and people on film in those nine days, observed history in the making and missed one significant opportunity.
Alaska resident and nature photographer Rich Montagna, who leads small groups of photographers through portions of the Iditarod race, described the perfect excursion to me: Alaska off-season, unusual outdoor image possibilities and a chance for friends, film and cameras to work together. I was hooked.
I expected to photograph mostly mushers and their dogs, but we returned home with much more: beautiful images of sunset over Anchorage; ice sculptures in the city; eagles in Homer on a separate side trip; colorful candid portraits; Turnagain Arm scenics after the race; half-buried vehicles in McGrath; and ski scenes at the Alyeska ski area near Anchorage the following weekend.
The history of the Iditarod is quite a tale. On January 21, 1925, Dr. Curtis Welch first diagnosed a diphtheria outbreak in Nome, Alaska, 1161 miles northwest of Anchorage on the Bering Sea. The lives of countless Nome children were at stake, with the only serum in the state sitting in Anchorage. Mushing teams were organized as the serum was carefully packed in a cylinder, wrapped in an insulating quilt and then tied up in canvas for further protection.
The serum left Anchorage by train on Monday, January 26. It arrived in Nenana, north of Denali National Park, at 11 p.m. on Tuesday, where it was turned over to the first musher, "Wild Bill" Shannon. A total of 20 mushers, in difficult winter conditions, transported the serum between 14 and 91 miles each over the 639 miles to Nome, where it arrived in just one week from Anchorage. The children were saved.
Last year's ceremonial start of the Iditarod began on Saturday, March 6 in Anchorage, where each team mushed through town. Sixty-three teams with 16 dogs each came from all over the world to participate. The temperature in bright sun at the start of the race was 18 below zero Fahrenheit. My equipment held up well, considering the number of hours it was subjected to below-zero conditions. I brought Hasselblads, older models without batteries and newer 503s with batteries. Neither type faltered. My lenses were in the wide to moderate zoom ranges (28-300mm 35mm equivalent), and I brought all the standard accessories of polarizer, flash, lens hood, nylon lens wipes and warming filters.
Battery packs tucked inside jackets worked best. A hand-held light meter stayed warm in my parka. One 35mm photographer's camera curtain froze halfway across the film plane, blocking a quarter of each frame. Another photographer's camera quit entirely. These were clearly challenging conditions for man, dog and equipment.
Most of the 70-plus rolls of film cracked as we tried to load them. Using principally slide film, we each exposed 50 to 75 rolls of film during the nine days, primarily Kodak's E100S and SW and Fuji's MS100-1000 (which I had heard from the Fuji rep had a "sweet spot" pushed to 400). Both films gave white whites and snappy colors.
For print film, I tried Kodak T400CN (the black-and-white C-41 process film) and Fuji's NHG ISO 800 print film. I used the fast film at night, but with bright sun every day, I stuck with ISO 100. The T400CN gave me great shots for hand-tinting at home.
Lenses were kept outdoors and outside my parka, for fear of condensation if I warmed them up. I carried my equipment in a photo backpack-- the large Domke Outpack.
For protection from the biting cold, I brought what I wear in Yellowstone winters: synthetic, heavyweight, moisture-wicking tops and bottoms first, followed by a fleece or wool layer (since perspiration wasn't a problem), covered with down or synthetic down and a Gore-Tex® jacket on top.
Goggles or sunglasses were a must on the snow cats. My hands stayed warm with mittens and a polypropylene liner. My boots were made for extremely cold weather, insulated with a one-inch-thick felt liner. Thick wool or synthetic socks completed my outfit.
I practiced mushing and photographing my host's dog team in the town of McGrath, a thrilling experience. A tripod, polarizer, flash and ISO 100 film were used much of the time, with a warming filter (81B) occasionally.
By 8:30 p.m., it was minus-35 degrees, with no wind. I wore every layer I brought. Thinking I'd be making mostly "photojournalism-type" images as the mushers arrived in darkness to hurriedly tend their animals, I packed lightly--camera, flash, short zoom and film. I waited about two hours outside until Martin Buser, the first musher and a three-time champion, arrived. Unfortunately, I didn't realize the conditions were perfect for the Northern Lights--cold and clear. It was a spectacular show of streaking greens and yellows. But without my tripod, I was forced to make "neurochromes" in my mind. The moral is: Always be prepared.
The race continued for a total racing time of nine days, 14 hours, 31 minutes as Montanan Doug Swingley, with a finishing team of 11 dogs, won his second Iditarod and $54,000. Martin Buser finished second, about nine hours behind, with nine dogs and a $50,688 prize.
As we made our way to ski at Alyeska and photograph eagles in Homer on Saturday while the race was still in progress, a tragedy unfolded. "Team Mutiny on the Yukon" read the Anchorage Daily News headline. Dee Dee Jonrowe, an 11-time top-10 finisher, was forced to pull out of the race when her dogs first balked and then stopped altogether in a howling headwind and minus-75 degree windchill. She tried everything--walking in front of the dogs for six miles, unhitching them so they could play--nothing worked. She and her team were flown out. As she put it best, "The dogs come first." As my favorite subject to photograph during the adventure, I'd agree.
Click here to return to Alaska Iditarod Tours
Resources


Iditarod Trail Committee
P.O. Box 870800
Wasilla, AK 99687-0800
(907) 376-5155
www.iditarod.com

Rich Montagna, the guide
(604) 720-0744
www.iditarodtours.com

Anchorage Convention And Visitors Bureau
(800) 446-5352
---

---