The Iditarod Sled Dog Race is one of the most famous sporting events in the world and we put you in the middle of it! Experience the unmatched excitement of the start of the Iditarod Sled Dog Race. Watch frenzied, leaping sled dogs straining at their harnesses to begin the 1000 mile race to Nome as anxious mushers and their handlers battle to control the excited dogs. Be part of the race by being a dog handler at the race start. Mingle with the mushers and race personnel along the trail at the McGrath, Nikolai, Takotna. Unalakleet, and White Mountain checkpoints. Join us for the wild celebration in Nome as the 1st musher crosses the finish line to claim their spot in Iditarod history.
Since 1996 AIT has been providing clients 1st rate tours of the Iditarod Sled Dog Race. We were the 1st company to offer tours of the Iditarod Race and still provide the highest rated tours. Read the testimonial page with magazine and newspaper articles from some of the scores of clients who have been our guests and had the time of their life. Many well known travel companies such as Smithsonian Journeys, Academic Expeditions, Cabelas' Outdoor Adventures, Alaska Bound and numerous travel agencies have booked their clients on our unique Iditarod Race tours because they know they will receive 1st class treatment. We now offer eight different tours of the race, giving you a variety of Iditarod experiences to choose from. All of our Iditarod Tours include outstanding sightseeing, adventure and the opportunity to be a volunteer in this exciting sporting event. If you have ever wanted to experience Alaska and one of the most unique and exciting sporting events in the world, our tours are for you!.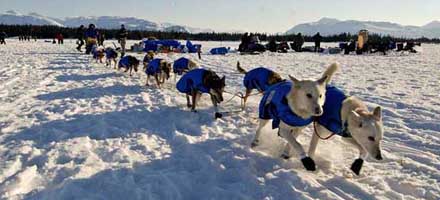 Hi Richard, I just want to thank you so much for a wonderful vacation!! It far exceeded any expectation that I had. I smiled for 21 days straight!! It was my first time in Alaska, and I feel that there is no way I could ever top this trip!! I loved every bit of it. From the cruise in Seward, to the resort, in which we took the helicopter ride and landed on a glacier!!! How awesome was that!! I loved the banquet, where we got to meet all of the mushers. Just when I thought "it can't get any better" it did!! I loved McGrath and flying to the check points. It was amazing And of course, being at the finish line in Nome, was the perfect ending to our Iditarod experience! We made so many wonderful new friends on the tour, that was icing on the cake!! It is truly a vacation I will never forget!! Thank you sooo very much!!
Liz Masalin