Experience the Iditarod with Alaska's Premier Iditarod Race Tour Company
Learn About Our Company on CBS Radio

Recently, CBS Radio's award winning travel show " Around the World in 60 Minutes" did a feature story on the Iditarod Race and selected our company to interview for Iditarod Race Tour packages. Click on the Soundcloud link below to listen to this 10 minute interview and get a good overview of the tour packages we offer and why they chose to feature our company.

For over 20 years Alaska Iditarod Tours has been offering clients the highest rated Iditarod Race Tours in the business. Our company has been featured on award winning travel shows, in Outdoor Photographer Magazine, in Hassleblad Forum Magazine and local newspapers. We have partnered with organizations like the Smithsonian Institute, Academic Expeditions and numerous travel agencies to provide their members with great tours of the Iditarod Race

Great tour companies all have one thing in common- REPEAT CLIENTS!

For 2016 we have 15 returning clients- some for their 3rd, 4th or 5th time! We offer our clients the largest selection of Iditarod Race Tours available and each of these guided tours are tailored to maximize the amount of personal contact clients have with the race teams and mushers. Our clients have the opportunity to be volunteer handlers at the race start and finish and to assist at the checkpoints if they desire. But no matter which tour you select, you will have one of the most enjoyable experiences of your life.
Five Time Returning Client Carol Hand in Unalakleet with Jim Tweeto of the Flying Wild Alaska TV show

We've travelled with Alaska Iditarod Tours for 4 years in a row, and we're so excited to be going a fifth time in March 2016. We followed the Iditarod online for years, and finally decided we had to see it once in person. It was so much fun that we just keep coming back. Visiting the checkpoints is one of the tour highlights for us. It's a chance to see remote native villages, and watching the teams arrive at a checkpoint is such a thrill. It's also an opportunity to watch the mushers and veterinarians interact with the dogs, up close and personal. We've made friends on the tour with people from all over the world. We keep in touch throughout the year, and some we see on the tour again every year. It's been so much fun to find people who share our love of Alaska, mushing, and the Iditarod. If you've ever thought about seeing the Iditarod in person,

I highly recommend these tours." Carol Hand


6 Day Race Start Tour
March 1-7, 2016


11 Day Race Start / Trail Tour
March 1-11, 2016

11 Day Race Start &Northern Lights
March 1-11, 2016

5 Day Trail / Checkpoints Tour
March 7-11, 2016

21 Day Ultimate Iditarod Experience
March 1-21, 2016

14 Day Trail / Nome Finish Tour
March 7-21, 2016

10 Day Nome Finish Tour
March 12-21, 2016

14 Day Nome Finish &Northern Lights at Chena Hot Springs Tour
March 7-21, 2016

14 Day Nome Finish & Northern Lights in the Brooks Range Tour
March 12-25, 2016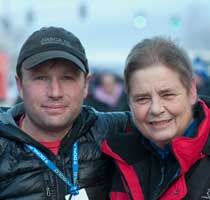 Five Time returning client Trish Cox with musher Curt Perano.

" My first Iditarod experience was in 2012 and I chose Alaska Iditarod Tours as they offered the most comprehensive tour following the whole race from the start in Anchorage, visiting checkpoints along the trail and finishing in Nome. I was more than happy with my choice of tour company and the whole experience was one I will never forget. Rich Montagna has been involved with the Iditarod and mushing for many years and is very knowledgeable and interesting to talk to. I've found Richard is always prepared to go that extra mile to make sure his clients have the best experience. 2016 will be my 5th Iditarod and yes I will be joining Rich's Alaska Iditarod Tour for the fifth time and meeting up with a dozen or so other returning clients from various parts of the world, as well as catching up with friends that I have made in the villages and towns over the last five years."

Trish Cox, New South Wales, Australia.